In Memory
Anita (Annie) Vivero (Vazquez)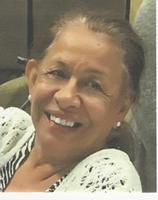 February 7, 1942 - October 16, 2018
Annie was matriarch of our family. She was simple and modest, yet complex and enchanting. She was unpredictable and spiritual. A self-reliant, hard-working, never held her tongue back fierce maverick.
Faced with the challenges of being a single parent, she worked feverishly to provide for her family. She worked many years at Holick's Manufacturing, befriending the original owners and caring for them in their older years. Amazingly, between her job and family responsibilities, Annie selfless gave her time and heart as a Religious Education teacher at St. Joseph's Catholic Church. She was an outstanding citizen of Bryan serving her community by volunteering at the polls during local elections. Her incredible work ethic, did not allow for rest, after her time with the Holick family came to an end, she found enjoyment working for Bryan ISD until her retirement in 2017. She did not ever actually "retire", she volunteered at local food pantries and proudly chauffeured grandkids to after school activities.
Annie was a faithful servant of God. Her faith was often tested, and perhaps broken a time or two after the passing's of her beloved sons but she held onto her faith, and her trust in God. Her family rose to the occasion, from the eldest daughter to the youngest grandchild, and filled her home with love and support during her trying times. "Mama" was resilient and persevered, thus modeling for her family to always trust in God.
Being Mama to eight children was no easy task. Her family was the most important thing in her life. Annie protected her family like no other. The commitment to her children never wavered, even if it looked as though it had.
Being Grandma Annie to over thirty kids was a feat of its own. Her grandchildren and great-grandchildren loved her so, and she fussed at them too. She did not always shower them with gifts and toys, but rather showered with things that cannot be bought: gratitude, commitment, responsibility, and faith. For they are so blessed to have known and loved "Grandma Annie".
Annie was an amazing cook. Her homemade tortillas were the best, they were not shared but rather hoarded by the lucky person who got to the house first. She loved to bake cakes and breads from scratch. Many happy memories and tears of joy and sorrow were shared at her kitchen table. The grandkids loved the kitchen table the most because Grandma always had fruit and candy for them and she never told them "No".
When her guard was let down, you might catch her dancing to Pit Bull and Bruno Mars, sometimes a beer was in her hand too. She loved to tell stories of yesteryear, and hours could easily pass as her listener was mesmerized. Annie was creative and efficient (using a Pringles can as a straw holder). She truly enjoyed keeping busy: gardening, nurturing stray animals, writing poetry, journaling, crossword puzzles, reading, and attending her grandkids activities. Annie did binge watch T.V from time to time, enjoying Celebrity Family Feud, Wheel of Fortune, CSI and cooking shows.
Annie was our hero. Her journey on earth was shaped by valleys and mountains and through it all she remained committed, kind-hearted, loving, faithful, outspoken, confident and friendly. And that is her legacy.
"There are three things that will endure Faith, Hope and Love and the Greatest is Love" 1 Corinthians 13-13
Anita "Annie" Vivero Vazquez was born February 7, 1942 to Enrique Vivero Sr., a World War II Veteran and Domitila Montez Vivero, a homemaker. She was one of three siblings, and the only girl. In her adolescent years, she heard the calling of God for her to join the Sisters of Mary, she explored the calling by taken courses, but eventually her path changed and she went on to graduate from Stephen F. Austin High School. Annie was a lifelong resident of Bryan.
Anita is preceded in death by her parents, Brother Henry, grandson Robert, and sons, Dre and Berto Vazquez, rest in peace Mama/Grandma Annie.
Annie leaves behind: Lisa A. Ocon, Maxine Ortega, Michael and Michelle Vazquez, Sylvia Vazquez, Christina Vazquez, Christina Garcia and Jermel Jackson, and Efren (Henry) Garcia and Queen Junek; her brother and his wife Robert and Josie Vivero; numerous nieces and nephews and thirty-one grandkids and ten great-grandkids to sow the seeds of hard work, determination, and endurance to reap the rewards of achievement, success and self-fulfillment.
Anita Vazquez, 76, of Bryan, passed away on Tuesday, October 16, 2018. A visitation will be held from 5-8 PM on Sunday, October 21, 2018 at Hillier Funeral Home of COLLEGE STATION. A Mass of Christian Burial will be celebrated at 1 PM on Monday, October 22, 2018 at St. Joseph Catholic Church in Bryan with interment to follow at Mt. Calvary Catholic Cemetery.
Please visit Anita's tribute page at www.hillierfuneralhome.com to share memories and stories.